Centreville Regional Library
14200 St. Germain Drive *MAP*
Centreville, VA 20121-2299
(703) 830-2223
Since the 1800s, the area known locally as Farr's Crossroads (the intersection of Braddock Road and Route 123/Ox Road), has had a significant influence on the development and history of Northern Virginia. The area surrounding the crossroads was originally part of a colonial grant and the roadways bounding it have been prominent since colonial times. During the Civil War the crossroads and the land GMU currently occupies, were controlled at various times by both Confederate and Union forces. A Civil War redoubt constructed in 1861 to guard the surrounding terrain is still visible and is the focus of the class.
Bull Run Civil War Round Table members Brian McEnany, Jim Lewis and Blake Myers will lead a tour and discussion of the little known fortification (redoubt) at Farr's Crossroads. The tour and discussion will highlight antebellum and Civil War history of this strategic crossroads and the surrounding area. The class will be conducted at the west end of Parking Lot K near the tree line.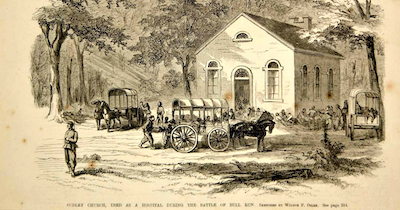 14 November 2019  7:00 PM
Topic:  "The Chaos and Carnage in the Hospitals of First Manassas"
Speaker: Paige Gibbon-Backus
click on notice below for better quality image